10 Black-and-White Outfit Ideas
It's hard to go wrong when combining black and white. But if you are looking for inspiration to get started, here are our recommended outfit combinations to experiment with.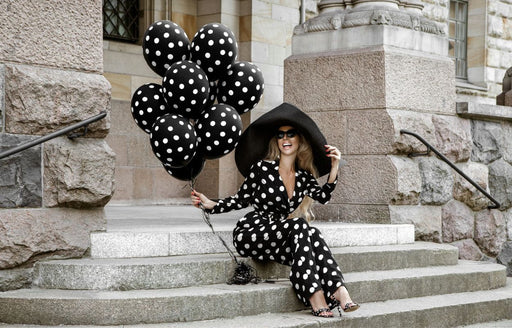 Black-and-white outfits are timeless and versatile. Many celebrities such as Florence Pugh and Stella McCartney even rocked the black-and-white look at the Met Gala.
Black-and-white outfits are a staple in many women's wardrobes, not just celebrities. The combination of black and white creates a chic and polished look that is both sophisticated and effortless. It is a pairing that never goes out of style and can be dressed up or down depending on the occasion.
In this article, we will explore various black-and-white outfit ideas to inspire you to create your own unique styles. From casual to formal and edgy to classic, there is a black-and-white outfit for everyone.
Why Wear Black-and-White Outfits?
Experimenting with black and white can be a great way to create stylish outfits. Whether you prefer a classic and sophisticated look or a more modern and edgy style, there are many reasons women love wearing black and white:
Timeless appeal
The black-and-white pairing never goes out of style. This combination is simple yet sophisticated and can be worn in any season or for any occasion.
Slimming and flattering for all body types
Black-and-white ensembles are known for their slimming and flattering effects. Black has a slimming effect, while white can create the illusion of a larger space. When paired together, they can create a balanced and proportionate look.
Easy to style
Wearing black and white is an ideal choice for anyone who struggles with putting together outfits. You don't have to worry about clashing colours or prints, and you can mix and match different pieces to create a cohesive look.
Professional and polished
The black-and-white combination is often associated with professionalism and sophistication. It is a popular choice for formal events, job interviews, and other occasions where a polished look is required.
10 Black-and-White Outfits You Should Try
It's hard to go wrong when combining black and white. But if you are looking for inspiration to get started, here are 10 outfit combinations to experiment with.
1. Black-and-white stripes
Black and white stripes are a striking and eye-catching pattern. The best way to wear this stunning print is on structured pieces like blazers. Combining black-and-white stripes with a blazer result in a crisp and elegant statement garment. Choose vertical lines that will lengthen your body for the most flattering appearance.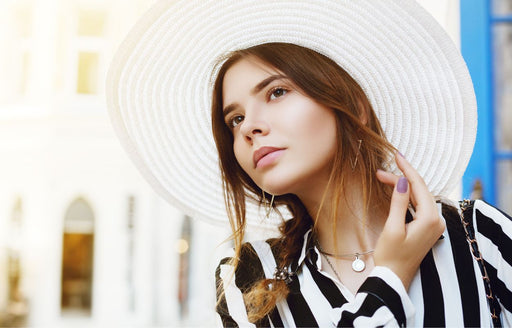 You can increase or decrease the boldness of your look with the trousers you choose to wear. Pairing a black-and-white striped jacket with matching slacks is a bold clothing choice. A solid black pair will create a more understated look.
2. Outfits with black jeans
Every woman's wardrobe should include a pair of black jeans. Black jeans combined with a white top create a sophisticated look.
The contrast of white with your favourite black skinny jeans looks clean and modern. But, be sure to add an edgy accessory to avoid looking like you're wearing a uniform. Although a white shirt looks sophisticated, black boots and a chic jacket will take the outfit to the next level.
3. Outfits with white trousers
White trousers, though more difficult to pull off than black trousers, are an excellent base for a black-and-white outfit. White trousers are undeniably attractive, and when worn correctly, they make a polished and chic aesthetic.
This season, instead of your normal white summer jeans, try some white, wide-leg, cropped trousers. Keep the rest of your appearance sleek to balance the weight of the voluminous trousers. A fitted white shirt, structured black jacket, and black shoes are ideal complements to white jeans.
4. Outfits with black-and-white shirts
Just like black or white trousers make a great base for a black-and-white outfit, so do black or white shirts. While white shirts are more traditional, black shirts are more modern.
For something in between, consider layering both colours or wearing a trendy black and white patterned shirt, such as a polka dot design. Whatever colour shirt you choose, it will look great with black, wide-leg trousers and heels.
5. Black-and-white suit
Consider wearing a black-and-white suit to the office if you want to look stylish and modern. While a classic suit is professional enough to meet even the most stringent dress codes, a contrasting black-and-white print will keep your look current.
Although a white shirt and black pumps are appropriate for the office, try something different for after-work drinks. A pair of platform brogues and a sleek black camisole will give this black-and-white ensemble more edge.
6. White-and-black dress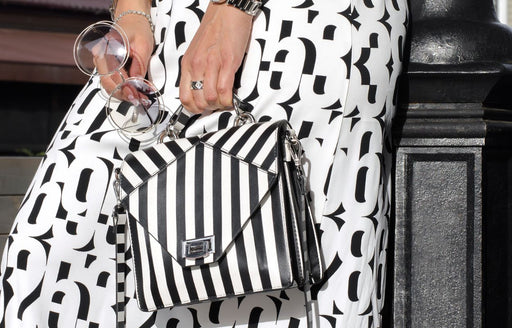 A black-and-white dress can be striking or understated depending on its pattern and amount of contrast. Of course, regardless of the design, the dress will be the focal point of your ensemble. As a result, accessories should be kept simple and traditional.
A black leather jacket can contribute to a casual book. A black blazer, on the other hand, is preferable for a more formal approach. When it comes to shoes, black is the ideal choice for both black and white gowns, although nude and cream can also work.
7. Black-and-white blazer
A woman's wardrobe would be incomplete without a black or white blazer. Black and white blazers are sharp, smart, and fashionable and take casual ensembles from relaxed to chic.
While you can wear your blazer with jeans or trousers, wearing it with a dress creates a more modern look. A clean-cut jacket and black, satin midi dress make a dramatic juxtaposition that is part business, part party. For a truly unique take on this pairing, add a touch of athleisure in the form of white trainers.
8. Black or white skirt
You probably have numerous black or white skirts hanging in your closet, whether they are minis, midis, pencils, or maxis.
Breathe new life into them by pairing them with other items to create black-and-white ensembles. Pair your black skirt with a white blouse, black sweater or jacket, and black boots for a quick and simple look. White skirts look great with white shirts and stylish black accessories.
9. White T-shirt outfits
Another wardrobe essential that can easily be transformed into a fashionable black-and-white outfit is a white T-shirt.
Style a white shirt with black slacks, black high heels, and a black embroidered bomber jacket for an edgy look. The jacket is a fashion-forward element that turns a plain outfit into a powerful one.
10. Outfits with white shoes
While black shoes go with everything, white shoes can be more difficult to style. However, once you learn to style white shoes, you'll want to wear them all the time. White shoes will always work as part of a black-and-white outfit, whether they're white trainers, flats, stilettos, or mules.
Tips For Wearing White and Black
Wearing black and white can be a great way to create a polished and sophisticated look. Here are some tips to help you wear these colours with confidence:
Play with patterns.
Mixing different patterns can add interest and depth to your black-and-white outfit. For example, you can pair a black-and-white striped shirt with a polka-dot skirt, or a floral dress with a white blazer. Just make sure the patterns complement and don't compete with each other.
Experiment with textures.
Mixing different textures can also add dimension to your outfit. For example, you can pair a black leather jacket with a white cotton t-shirt, or a white lace skirt with a black wool sweater. This can create a visually interesting outfit that stands out.
Use accessories to add pops of colour.
Black-and-white looks can sometimes feel too monochromatic. To break up the black and white, add pops of colour with accessories such as a colourful scarf, a statement necklace, or a bright bag. This can add visual interest and make your outfit more dynamic.
Consider the occasion.
Depending on the situation, black-and-white clothes may be dressed up or down. A black-and-white striped shirt with jeans and trainers, for example, has a casual vibe, but a black-and-white cocktail dress creates a sophisticated appearance. Take into account the occasion and dress accordingly.
Don't be afraid to mix black-and-white shades.
Black-and-white outfits don't have to be limited to stark black and white. You can mix shades of black and white to create more subtle and nuanced looks. For example, you can pair a cream-coloured blouse with black trousers or a charcoal-coloured sweater with white jeans.
FAQs
What is a black-and-white outfit called?
Black-and-white clothing is known as a monochrome outfit. A monochromatic outfit is one that only employs shades of one colour, therefore a black-and-white look would fall into this category because it only uses shades of two colours, black and white.
Can black and white be worn together?
Yes, you can wear black and white together. In fact, black and white is a classic combination that never goes out of style. Pairing black and white is simple yet stylish, and it can be worn in any season or for any event.
What looks best in black and white?
A traditional black-and-white suit, a black-and-white dress, black trousers and a white top, a white blouse combined with black jeans or a black skirt, and black-and-white stripes are some outfits that look best. However, the best black-and-white combination is the one that looks best to you.
When not wearing your finest black-and-white pieces such as cocktail dresses, suits, and shoes, we recommend storing them in high-quality storage bags. Hayden Hill garment bags are made of 100% organic, soft cotton that is environmentally friendly and allows your favourite pieces to breathe. We deliver sustainable and beautiful garment care to preserve and protect the clothes you love most.